Branded 3-Ply Disposable Face Mask
Preface


As production volume increases tremendously, the prices of 3-ply disposable face mask plunge. The new trend in Taiwan turns to print the masks. Already many new patterns emerge every day in the markets. Prices of printed masks keep at a higher level.
Customer's own logo printed masks are valuable. Masks recently distributed in our National Day Celebration and concerts in Taiwan are now for collectors. We see great chances for masks with custom printing, OEM instead of choosing patterns of what markets already have. Take designs of the customers and print on the 3-ply disposable face masks, with a minimum of 1000 pieces or even 500 only.



Product


Branded 3-PLY Disposable Masks for Adult (YP-A312) and for Kids (YP-A313)
Masks double-stamped (Made in Taiwan and MD), Made of 3-PLY Non-Woven. Front: PET,Middle: Melt Blown,Back: PP. Elastic ear loops for comfort and wire panel for adjusting over nose.
Product Sizes: Adults 17.5X9.5cm Kids 14.5X9.5cm
Packing: Bulk 20-25-or 50 in a big bag
Logo Branding Design Guides

(go to the page bottom)


By sublimation on the front PLY of PET fabric.
Design Guides (Must Read):
1) Left & Right sides random cut while the printed front PLY goes onto the mask machine with the other 2 layers.
2) Avoid logo or objects to be in a fixed position.
3) View examples of photos showing below for better understanding.
4) Contact us by sending an example of your artwork for confirmation.
Summary of Product Performance

Examples of Product Photos
Except the certificate issued by Taiwan Textile Research Institute, NO other product report available. Suggest NOT to offer as medical masks because of very strict and complicated regulations when you import. Suggested HS Code: 63079050393 or contact our sales to discuss.
Factory Information
Medical Devices Permit No. 008402 issued by Ministry of Health
Pharmacist Registration in Taiwan 6132011437
Free Samples in November
Contact to get samples of our masks for reference or supply your own designs. Samples are free, freight collect or to go with your next shipment.

Delivery --- 1-2 weeks for your branded samples or quantities 10,000pcs and below. Contact sales for exact timing. If in time to go with our immediate production runs, delivery time will be shortened.

Minimum quantity and number of artworks allowed in the quantity
Pricing of Minimum on web is 1000, accept 500 with extra cost. Accept several artworks in the order quantity. However, if the quantity of a design is less than 500pcs, we will close the case with the quantity produced. No new production to make up the shortage.

Packing
We aim the Branded Masks as a promotional item or giveaway (instead of merchandise for retail), the packing is bulk 20-25-or 50 in a big bag, then in a carton. Individual polybagged is possible by inquiry.

Contact us today for the free samples. We look forward to working with you for business opportunities and helping prevent the spreading of COVID-19.
| | |
| --- | --- |
| 3-PLY Disposable Masks Adult | 3-PLY Disposable Masks Kid's |
| | |
Design Guides (Contact & get a bigger file)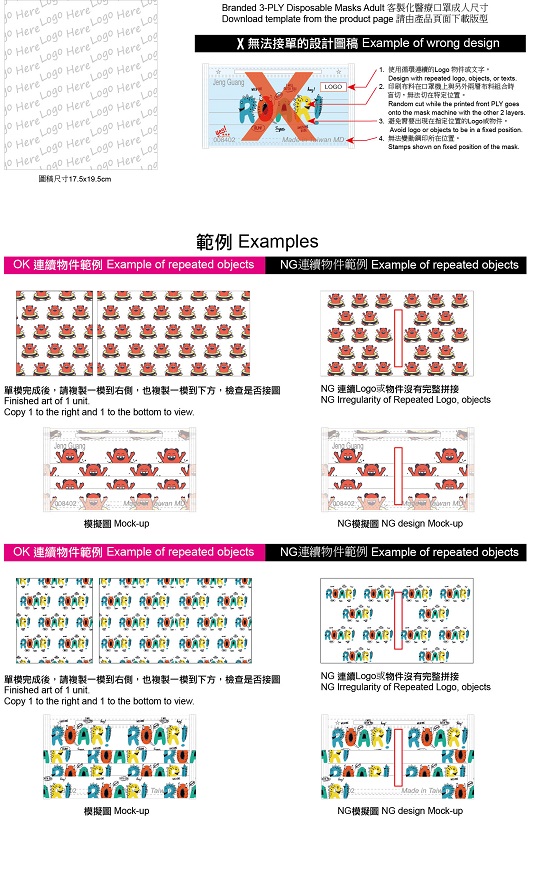 2020-11-13